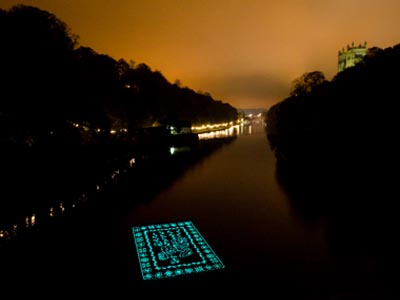 Illuminated Carpet
River Wear, Durham
Commissioned for 'Enlightenment, Durham International Light festival' Nov 2008.
The 8 meter x12 meter floating sculpture with electroluminescent wire, floated like a magic carpet just above the river surface.
Illuminated Carpet was moored in the river just downstream from the Prebends Bridge on the River Wear. The image appeared to float above the surface of the river, responding to the rippling current, and to cast its reflected image below. The design has focused on the rose motif, a flower highly favoured by carpet makers from both the East and West. It merges styles and patterns from the Indian carpets of the Moghal Dynasty, reflected din the collection of Durham's Oriental museum and designs found in the pattern books of the Barnard Castle carpet industry together with the memory of the rose gardens once common along the banks of the River Wear.