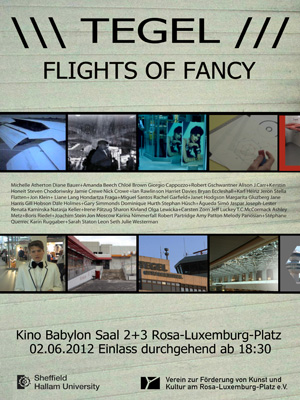 Tegel's Last Sigh 2012
Kino Babylon Berlin
Video

Tegel's Last Sigh. Tegel Airport, Berlin is due to close, built in the early 70's it belonged to a different era of air tr avel. Tege's' Last Sigh animates its last breath of air. Exhibited as part of Tegel: Flights of Fancy
Tegel: Flights of Fancy, a video project screened in Kino Babylon, Berlin to mark the closure of Tegel Airport in June 2012. Twenty six artists from Britain and Germany were invited to produce short flims that encouraged speculations both on how this space might be occupied in the future and what in the past it symbolised for the people isolated in West-Berlin. Air travel is hardwired into the imagination, the cinematic (disaster, romance and action movie all in one), and in concepts of cultural mobility, exchange and internationalism. It stands for a time when technological progress still was thought to be human progress and when air travel was still exclusive.
The closure of Tegel airport marks an important change in the way air travel is organised and experienced. The design of this airport is of a time when flight was associated with glamour, fantasy, technological progress, romantic chance encounters and fictional disasters. The building is famous for its distinctive concrete hexagonal structure.
The project is organised by Jaspar Joseph-Lester, Susanne Prinz and Julie Westerman and builds on a series of events, exhibitions and publications that have been realised through cross-cultural collaboration between artists based in the UK and Germany. The event will be hosted by Verein zur Förderung von Kunst und Kultur am Rosa-Luxemburg-Platz.

---------------------