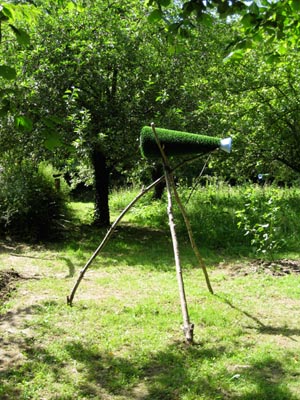 Viewing Trumpets
Côté court. Côté jardin. Plouër sur Rance, France
Three sculpturers: Artificial Grass, polypropolene sheet and engraved acrylic on chestnut pole tripods. Each trumpet approx 1 meter long.
The viewer looks through the sky blue eyepieces onto scenes of bucolic plenty. The view is interupted by disquieting engravings of locusts, toads and fire that suggests a portentous future.
The viewing turmpets are sited in an idyllic garden in rural Brittany. Midsummer is in full bloom with fruit trees already promising a heavy crop and the vegetable garden bursting with produce. The sculptures call to mind both megaphones and the telescopes that invite the tourist to see the perfect view; they look out from the rural idyll to sound a note of warning from the future