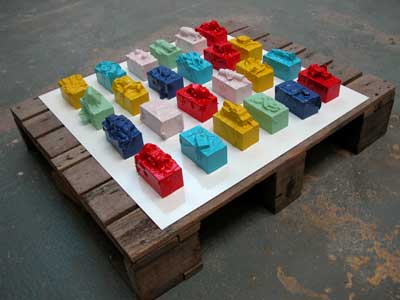 Castoffs and Mementoys
Subway Special - A Democratic Platform
Group exhibition where artists made site specific work for the disused Aldwych Underground Station.
Castoffs and Mementoys become monuments to the traces left by the last travellers of the decommissioned Aldwich Underground Station. They are mementoes of the detritus and random lost property of the last passengers. The sculptures capture an indiscriminate selection of the evidence of their passage; discarded, scrutinised, wrapped, cast, exhibited, forgotten, or preserved they await their fate.
Curated Stephanie James / Frank Brown.
Publication : Subway Special A Democratic Platform – Frank Brown / Stephanie James. Introduction James Brown