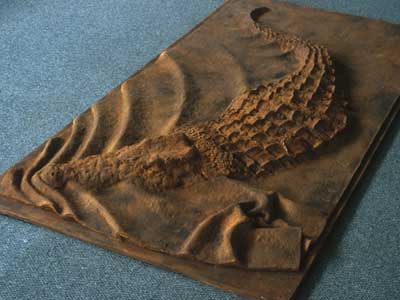 Cast Works
Crocodile Carpet, Iron Cloth, Pink Toads
Crocodile Carpet
Ciment fondue. Iron filings
8' x 4'
The crocodile glides through the dark water creating a bow wave. The surge of water ripples outwards becoming the ruckles of an exotic carpet patterned with motif of a Persian garden.
The piece looks both outward and inward drawing together a number of disparate elements and events, it weaves our seemingly insatiable need to plunder and possess with the thrill of spine-chilling fear induced by the midnight horror movie and a childhood fascination for gruesome fairy tales and monsters under the bed.
The very words Persian carpet conjure up an image of opulence and luxury; the elegant and the exotic. The Crocodile Carpet is drawn from the image of a Persian garden, coveted and collected, the booty of the explorer. In the East a garden is a place where there is water, therefore by association the carpet becomes a pool of water. The surface is disturbed by the progress of a crocodile, an awesome primeval eating machine. Both feared and desired, the crocodile epitomizes the archetypal beast and the ultimate accessory.
Pink Toads
Each pink toad waits under an individual drape. This work builds on previous pieces that use cloth to reveal and conceal. The pink toads aim to seduce and to repel, they are veiled but not hidden, almost edible, poignantly still but not dead, poised and poisonous. The cloth veils them, mucus smooth and synthetically sickly sweet. The flesh pink reveals them to be naked, reassuringly familiar yet disquietingly uneasy.